Minnesota Establishes Teddy Bear Band Day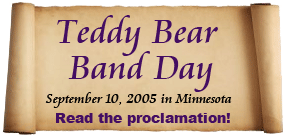 In September 2005, the Teddy Bear Band was honored with a proclamation for September 10th to be Teddy Bear Band Day in the STATE OF MINNESOTA for its 20 years of supporting and representing Minnesota's early childhood education community as well as earning public acclaim and recognition!
Teddy Bear Review Magazine
In August 2009 the Teddy Bear Band was honored with an article by the TEDDY BEAR REVIEW MAGAZINE praising the Teddy Bear Band for its child development perspective and the band's creative use of teddy bears to encourage children to participate and interact.
Minnesota Parent Magazine's Family Favorite Award
Teddy Bear Band is the only children's artist ever honored with the MN PARENT MAGAZINE'S FAMILY FAVORITES AWARD. The winners of this award are chosen by parents, children, and the general public.
Minnesota Music Award

Teddy Bear Band has been the only recipient since 1988 to receive the MINNESOTA MUSIC AWARD from the MINNESOTA MUSIC ACADEMY. This award is chosen by musicians and music industry professionals.
Mothers Choice Award (TBB Show DVD)
The Mom's Choice Awards® has named our "Teddy Bear Show" DVD among the best in family-friendly media, products and services. Parents, educators, librarians and retailers rely on MCA evaluations when selecting quality materials for children and families
Minnesota Sesquicentennial Statehood Celebration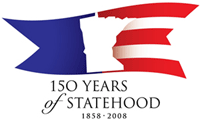 The Teddy Bear Band was selected as the featured entertainment to immediately precede the official MINNESOTA SESQUICENTENNIAL STATEHOOD CELEBRATION on May 18, 2008 at the MN State Capital.
Rock and Roll Hall of Fame and Smithsonian Institute
Upon the band's 25th anniversary the SMITHSONIAN INSTITUTE and the ROCK AND ROLL HALL OF FAME have invited the Teddy Bear Band to be considered for induction.
Musician's Magazine Article
The Teddy Bear Band's accomplishments were celebrated by the American Federation of Musicians in INTERNATIONAL MUSICIAN MAGAZINE.