People are Talking About TBB!
"I have been aware of the wonderful work of the band since my own children were toddlers. As I have watched the Teddy Bear Band perform over the years, I have always been struck by your ability to engage children. Please involve me as a consultant as you deem appropriate. I hope your work reaches more and more children."
—David Walsh Ph.D. (Executive Director – National Institute on Family and the Media)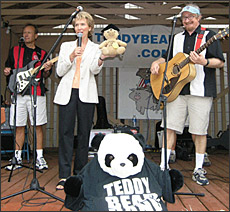 Minnesota Commissioner of Education Alice Seagren stops by at Teddy Bear Band's annual performance at the Minnesota State Fair Education Building to support early education and Teddy Bear Band.
"Unlike overt 'message songs' that are so prevalent right now in the children's music field, Teddy Bear Band's message is between the lines. The band lets every child know they're appreciated for who they are, and encourages them to participate in positive ways."
—Martha Farrell Erickson, Ph.D (Children, Youth, and Family Consortium)
After "Mr. Rogers" delivers his keynote address and Teddy Bear Band presents at NAEYC in Toronto, founding member Ron Gustafson has an engaging conversation with Fred Rogers about "the most important thing in communicating with young children."
LINKS: Mr Rogers and Teddy Bear Band story on KSTP
"The best thing about these Teddy Bear guys is that they're real, both figuratively and literally. They're one of those all-too-rare breeds of live performers for little ones; not on a screen, not coming out of a speaker, but right there with kids interacting and responding to each other. The Teddy Bear Band is also spiritually alive – a real lift for both parents and kids…No contest. These folks are the consummate kids entertainers."
—Parent Magazine
"I think the Teddy Bear Band is just great!"
—Minnesota Education Commissioner Alice Seagren
"We are fortunate to have these great ambassadors [TBB] for Minnesota ECFE
[Early Childhood Family Education]."
—Lois Engstrom (MN Dept of Education – Children, Families, & Learning)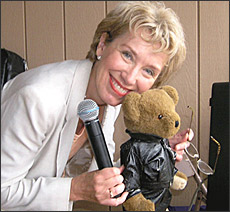 Minnesota Commissioner of Education Alice Seagren is attracted to the "electric personality" of TBB's "Little Elvis."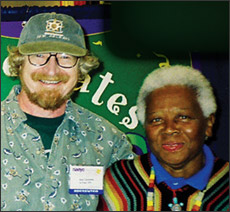 Ron's major influence in children's music has been Ella Jenkins.