Children's Music, Entertainment and FUN with a Purpose!
We'd like you to know!
From what began as a one time benefit concert for Bloomington Early Childhood Family Education, The Teddy Bear Band has become Minnesota's most successful Children's Music Group.Teddy Bear Band is dedicated to connecting with kids "where they live" through "developmentally appropriate" music, fun and participation, spontaneously adjusting to audience ages and stages. Unique to TBB! With over 10,000 shows/early childhood conference keynotes and presentations the most important result has been setting kids up for success as kids embrace TBB's slogan: "YOU'RE IN THE SHOW!"
We're Honored!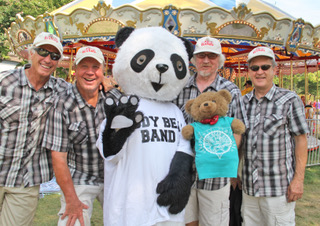 TBB has received many awards from the MN MUSIC ACADEMY, Proclamations for TEDDY BEAR BAND DAY from the State of MN Governors, recognition to present and keynote for nationally respected early childhood experts, and recently a MN MUSIC Hall of Fame induction with PRINCE, DYLAN, etc. HOWEVER, the most important HONOR is when YOU BOOK TBB – attend a show, purchase a recording! and when ORIGINAL "TEDHEADS" bring THEIR CHILDREN!
Teddy Bear Band's DVD wins national MOMS CHOICE award!
Positive "screen time"! Teachers and parents had long searched for a DVD that demonstrated developmentally appropriate participation and FUN that supported goals for early childhood classes but could not find one. Then one day the call came… "Hey Teddy Bear Band, that's what YOU do! Please make a DVD!"
Bring Panda and the band home! See some clips and check out the DVD here!